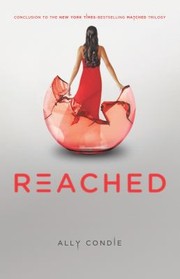 FIC CONDIE
Reached
New York : Dutton Books, ©2012.
512 pages ; 24 cm.
"In search of a better life, Cassia joins a widespread rebellion against Society, where she is tasked with finding a cure to the threat of survival and must choose between Xander and Ky"-- Provided by publisher.
No Reading Program: Level 4.6 UG / 16.0 Points / 155307.
Lexile: 670L
Available
Regular
1 copy available at Pioneer Valley Performing Arts Charter School
| | |
| --- | --- |
| ISBN: | |
| ISBN: | |
| ISBN: | |
| LC Call No: | PZ7.C7586 Rd 2012 |
| Dewey Class No: | [Fic] 23 |
| Author: | |
| Title: | |
| Edition: | First edition. |
| Publisher: | New York : Dutton Books, ©2012. |
| Physical: | 512 pages ; 24 cm. |
| Notes: | Sequel to: Crossed. |
| Summary: | "In search of a better life, Cassia joins a widespread rebellion against Society, where she is tasked with finding a cure to the threat of survival and must choose between Xander and Ky"-- Provided by publisher. |
| Target Audience: | |
| Study Program: | |
| Subject: | |
| Link: | |
| Field | Ind | Subfield | Data |
| --- | --- | --- | --- |
| 001 Control No | | | 5747 |
| 005 LastTransaction | | | 20180210054939.0 |
| 008 Data Elements | | | 120907t20122012nyu d 000 1 eng |
| 010 LCCN | | $a Record content licensor | 2012031916 |
| 020 ISBN | | $a ISBN | 978-0-525-42366-9 |
| 020 ISBN | | $a ISBN | 978-0-14-242599-2 |
| 020 ISBN | | $a ISBN | 978-0-14-242599-2 |
| 035 System Ctrl No | | $a System control number | (DLC) 2012031916 |
| 040 Cataloging Src | | $a Original cataloging agency | DLC |
| | | $b Language of cataloging | eng |
| | | $e Description conventions | rda |
| | | $c Transcribing agency | DLC |
| | | $d Modifying agency | GCmBT |
| 042 Authentication | | $a Authentication code | lcac |
| | | $a Authentication code | pcc |
| 049 | | $a | JRSA |
| 050 LC Call No | 00 | $a Classification number | PZ7.C7586 |
| | | $b Item number | Rd 2012 |
| 082 Dewey Class No | 00 | $a Classification number | [Fic] |
| | | $2 Edition number | 23 |
| 100 ME:PersonalName | 1 | $a Personal name | Condie, Allyson Braithwaite. |
| 245 Title | 10 | $a Title | Reached / |
| | | $c Statement of responsibility | Ally Condie. |
| 250 Edition | | $a Edition statement | First edition. |
| 260 PublicationInfo | | $a Place of publication, dist. | New York : |
| | | $b Name of publisher, dist, etc | Dutton Books, |
| | | $c Date of publication, dist, etc | ©2012. |
| 300 Physical Desc | | $a Extent | 512 pages ; |
| | | $c Dimensions | 24 cm. |
| 500 General Note | | $a General note | Sequel to: Crossed. |
| 520 Summary | | $a Summary, etc. note | "In search of a better life, Cassia joins a widespread rebellion against Society, where she is tasked with finding a cure to the threat of survival and must choose between Xander and Ky"-- |
| | | $c | Provided by publisher. |
| 521 Target Audience | 8 | $a Target audience note | 670 |
| | | $b Source | Lexile. |
| 526 Study Program | 0 | $a Program name | Accelerated Reader AR |
| | | $b Interest level | UG |
| | | $c Reading level | 4.6 |
| | | $d Title point value | 16.0 |
| | | $z Public note | 155307. |
| 650 Subj:Topic | 0 | $a Topical term | Government, Resistance to |
| | | $v Form subdivision | Juvenile fiction. |
| 655 IT:Genre | 7 | $a Genre/form data or focus term | Fantasy fiction. |
| | | $2 Source of term | gsafd. |
| 852 Holdings | | $a Location | PVPA |
| | | $h Classification part | FIC CONDIE |
| | | $p Barcode | 544241 |
| | | $9 Cost | $0.00 |
| 856 ElectronicLocat | 4 | $3 Materials specified | Cover image |
| | | $u Uniform Resource Identifier | https://covers.openlibrary.org/b/id/7815031-M.jpg |